SGM-1000  …..On Sale In stock.
Professional Shotgun Microphone
                                                       Features
High quality audio for the videography
Super Cardioid pick-up pattern
Wide frequency response
High max SPL at 120dB
Low-cut roll off switch
Powered by single AAA battery or phantom power
Up to 1000 hours of battery life
XLR output connection
Comes with SMH-1 shock mount
2-Year Warranty
The Azden SGM-1000 comes with a windscreen and Azden's unique shockmount holder with integrated shoe-mount. Designed for Video and Audio Professionals, the SGM-1000 is a highly directional shotgun microphone with a wide frequency response and low noise levels. The SGM-1000 can be powered by external phantom power or a single "AAA" battery.
           In the Box
SGM-1000 Microphone
Shock mount mic holder with extra support bands
Windscreen
Zippered Carry Case
Manual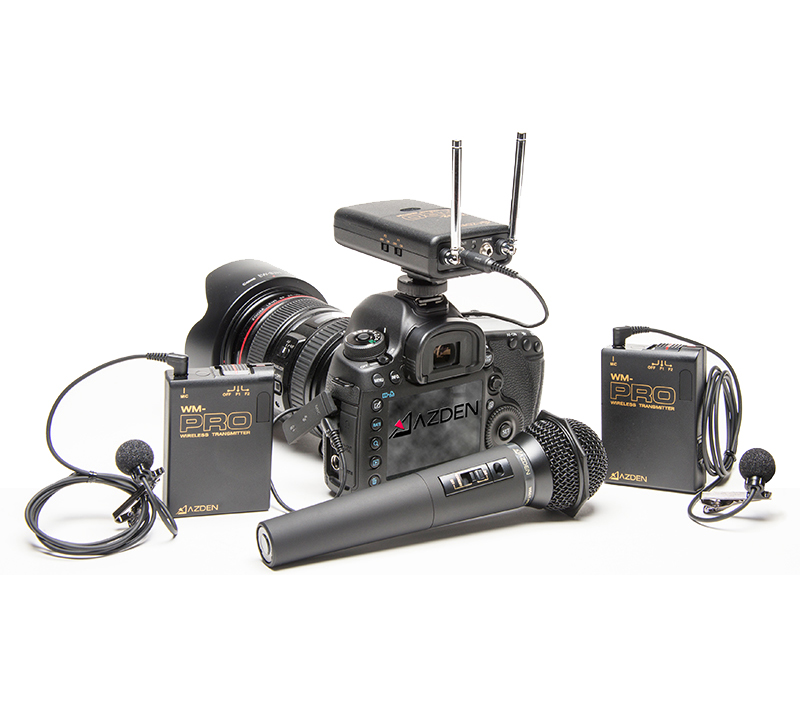 Azden's PRO Series Wireless Systems have been a very successful mainstay in its product lineup for many years. Designed to be used with today's modern DSLR cameras, Azden's PRO series provides amateur and professional videographers alike with an affordable, easy to use, wireless audio solution. It is well known that DSLR cameras give you excellent image and video quality, but their audio capability is severely limited. Using an Azden wireless microphone system will drastically improve your camera's audio and give your footage the high quality sound it deserves.
 The PRO series operates in a low interference VHF band with all components using the same 2 frequencies: 169.445MHz and 170.245MHz, which allows users to mix and match components with the confidence that they are all compatible. Complete PRO Series systems are sold in many different configurations, offering both single and dual channel options. With Azden's PRO Series, there is a wireless audio kit suitable for almost any situation.
All Azden products available in Brisbane Australia now. Check out all the great Azden products at:
PRO Series Systems
WHD-PRO
Single channel VHF wireless system combines WM PRO, WR-PRO and SMX-10. Comes with custom carrying case.
$Phone for the best price
Features
VHF wireless audio system & stereo mic
WL/T-PRO body-pack transmitter & lapel mic
WR-PRO Camera Mount Receiver
SMX-10 stereo microphone w/ shoe mount
2 selectable operating frequencies
Connects into DSLR camera's mic input
Operates in the low-interference VHF band
Transmit audio up to 300 feet away
WLX-PRO
Single channel, VHF wireless system. Combines WM-PRO, WR-PRO and EX-503.
Features
Single Channel VHF wireless system
WL/T-PRO body-pack transmitter & lapel mic
WR-PRO Camera Mount Receiver
2 selectable operating frequencies
Operates in the low-interference VHF band
Transmit audio up to 300 feet away